Introduction: The idea for doing this project was born out of Nick's & my love of food, cooking and exploring other cultures. With that in mind, we thought it would be a fun challenge to choose a local dish, once a month from a part of the world we were in and to attempt to recreate it in whatever Airbnb we happen to be in- this means, new part of the world, new language, unfamiliar ingredients, different altitudes, and NO previous experience with making the dish! Challenge accepted! And although we cannot guarantee that the food we make will be tasty, we can guarantee that it will be entertaining to watch us try.
Let me start by saying that I have never seen Kacey take a liking to stew. This is important because, for all intents and purposes, we created a stew. The overall verdict: she did not like it. This is contrary to the goulash that we ate at the restaurant Drum Cafe in Budapest which she LOVED. She's a born texture connoisseur – and I know if the meat isn't tender enough, too chewy, or slightly fatty – she will not dig it. I think that was the case with our goulash. Plus, it didn't have a high quality paprika. I bought some budget spice at a Penny Market. It was a bargain – just 1€ – I mean, c'mon – I am on a budget! Budapest market prices are great for budget travel. Our sources say a single person could live here for under $700/mo USD. Groceries alone are over 40% cheaper than San Diego, CA!
I've noticed in Hungary (and now Romania), that pork is a big deal. Beef in variety of cuts and quality are harder to come by. We did seek out butcher shops which are plentiful in the many large markets they have (see the video above) but even then – the pickings are slim. For example, the last marketplace I went to had no less than six butcher counters – mostly crowded with hanging bits of smoked pig appendages – but, if you're lucky, only a few scraps of cow. So I did find one that had a nice bucket of cow cubes and bought it knowing it was exactly for stew. Let me tell you – Hungarian is not easy to just pick up in a weekend.
Older Hungarian's speak Hungarian – makes sense. Enough younger folks speak some degree of English. What I'm saying is that it's not easy to order from a butcher counter when you can't speak the language. Through a series of mimes, gestures and mumbling I was able to get what I wanted. In any case – I love butcher shops – I feel like I get a much better quality cut than if I were to get a pre-packaged version from the market. Did I mention most neighborhood chain markets don't have a butcher counter? They have a vacuum packed plastic factory package of meat. It kind of grosses me out. Kacey thinks I'm a little eccentric about this – but am I? Would you rather eat something that was sitting on a shelf/freezer for some uncertain time period when you can get the real deal cut directly from the body of an animal in the back room (albeit also of an unknown origin or time period)?!
Have you ever tried making Goulash? Please share your experience or recipe below!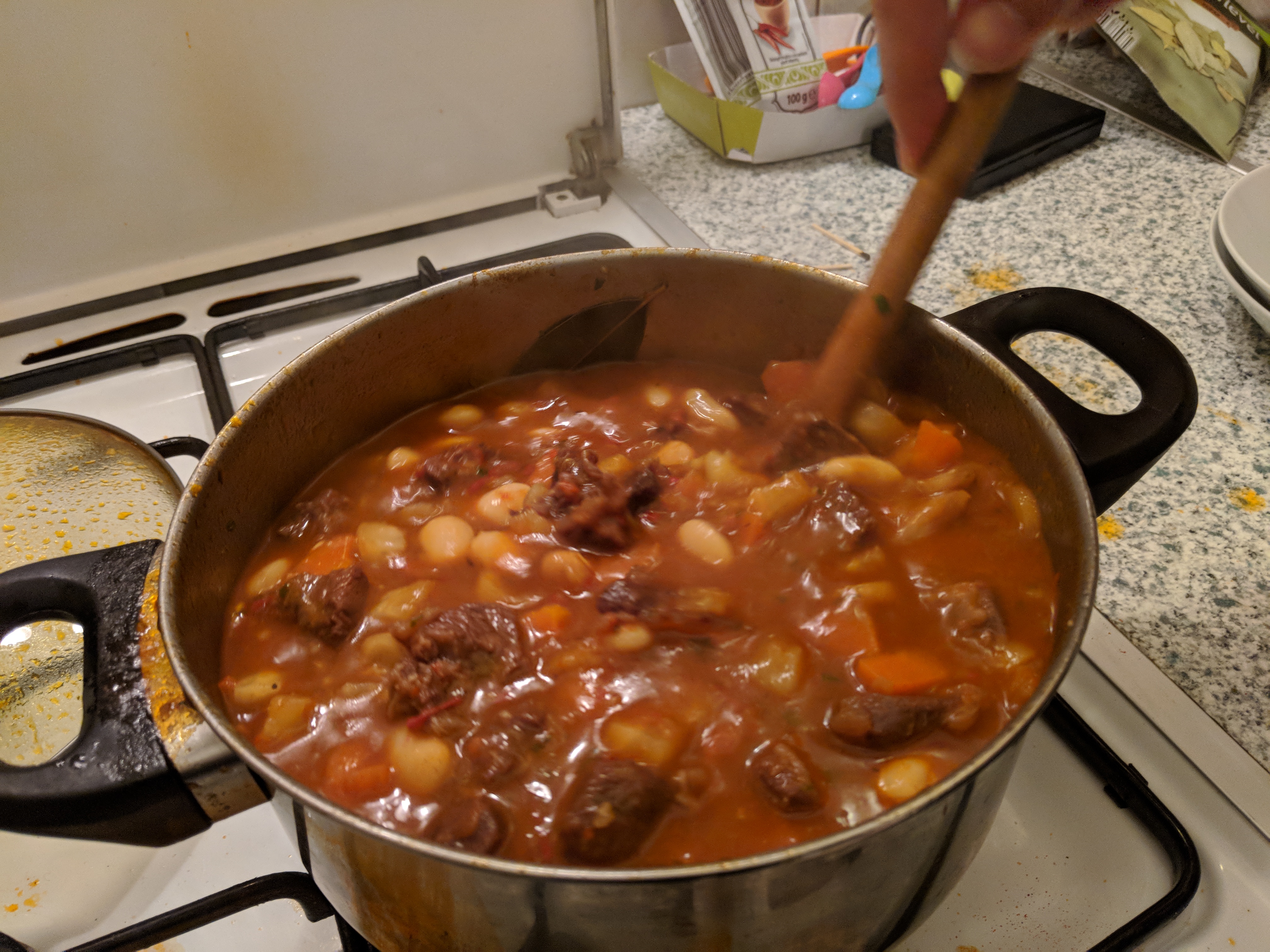 It was difficult to locate pork lard in Hungary – but I found some at the supermarket. I've never used pork lard in my cooking before – but have used duck lard quite a bit. Joel Lavarez, master chef, got me into that stuff. The only other difficulty was the size of the pot I was using. It was tiny. We have been trying to get a measure of "kitchen equipment" in the photos of the AirBNB photos before booking, but you never know. I suppose I could ask … we tend to make a large pot of something – soup or otherwise – if we stay more than 3 days in a place.
To make our dishes from your own home you can follow one of the recipes we used; actually we picked elements from both recipes since there wasn't an easy to find "exact match" for what we wanted: beans, pork bones and beef
Traditional Hungarian Bean Goulash (Babgulyás)
Here's some items that might help you prepare this dish
Summary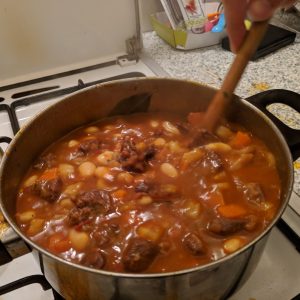 Article Name
Cooking Goulash in a Hungarian AirBNB Kitchen
Description
We thought it would be a fun challenge to choose a local dish, once a month from a part of the world we were in and to attempt to recreate it in whatever Airbnb we happen to be in.
Author
Publisher Name
Publisher Logo