The idea for doing this project was born out of Nick's & my love of food, cooking and exploring other cultures. With that in mind, we thought it would be a fun challenge to choose a local dish, once a month from a part of the world we were in and to attempt to recreate it in whatever Airbnb we happen to be in- this means, new part of the world, new language, unfamiliar ingredients, different altitudes, and NO previous experience with making the dish! Challenge accepted! And although we cannot guarantee that the food we make will be tasty, we can guarantee that it will be entertaining to watch us try.
With this being our first ever video and with limited equipment we ask that you bear with us with the volume as it is hard to hear us (especially Nick with his deep bass voice that gets a little Batmanish in parts) and know that we are working to improve this for next time. We also would love to hear from you all on what kinds of world dishes you would like to see as we make our way around the world so please leave comments for us and subscribe to our Youtube channel. For information on where we will be in the world during which month, you can check out our website under "Destinations" and as always, thank you for your support and we hope you continue to adventure with us.
Have you ever tried making Schnitzel? Please share your experience or recipe below!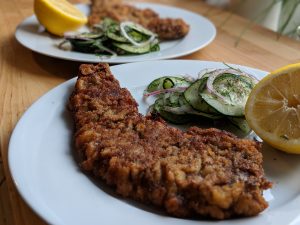 Here's some items that might help you prepare this dish
Summary
Title
Cooking Abroad - Wehr In The Kitchen - Episode #1: Schnitzel
Description
Behold! The greatest traveling cooking show on earth! Watch our two fearless travelers as they attempt to prepare local cuisine in their AirBNB kitchen with no familiar grocery, language, kitchen tools or skills! Each episode is featured from a different country.