Sex Show Options:
Casa Rosso:
With its neon pink dancing elephant sign, it sits at the heart of the Red Light District and is by far the most famous and popular sex club in Amsterdam known for the variety of shows/acts they offer. Although it is the oldest sex show/theater in Amsterdam the venue is still relatively clean (for a sex show theater), staff are all very professional and the venue is set up like a movie theater with the option of ordering/having drinks during the show.
The largest draw to this club is its live sex shows which usually includes and male and female having some choreographed sex, with individual performers in between playing with props and doing some light BDSM. Each act is on for between 5-10 minutes with a fairly quick rotation. On occasion (but not at every show) there can be some 'volunteer based' audience participation (unlike at the Moulin Rouge where they encourage lots of audience participation) where 'volunteers' can expect to get stripped, squirted, and asked to stick objects into places that would make your mother blush. This club is also more friendly to mixed gender audience which is also not the case for some of the other shows in the district which cater more to heterosexual men (like the Banana Bar).
Reservations can be made or groups of 10 or more and this venue is popular with hen/stag parties since it is one of the largest venues able to accommodate 180 people at a time. Although it is one of the most popular clubs in Amsterdam due to its large size getting in with a small group (1-9 people) without a reservation is usually no problem but for larger parties it is recommended to make a reservation to make sure everyone can be sat near each other. Another bonus to this venue worth noting is that the theater is air conditioned which is so nice during the hot summer months 🙂 One thing to note is that audience members are able to come and go at any point during the show so there is a continuous coming and going occurring which can be pretty distracting and can be pretty irritating depending on where you are sitting in your row as you have to stand up to let people in/out frequently and/or change your own seat. We found that this took away from the overall experience to some degree.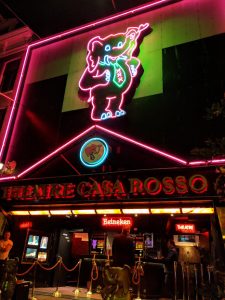 Website: https://www.casarosso.nl/
Cost: Entrance fee is 42 Euro per person and drinks are paid for separately or you can pay 52 Euro and get 2 drink tokens included
Hours: Sunday to Thursday from 7pm till 2am; Friday and Saturday from 7pm till 3am
Address: Oudezijds Achterburgwal 106-108, 1012 DS   Amsterdam
Moulin Rouge:
This risque sex show is more theatrical and more of what you think of when you imagine a Red Light District show to be like. There is theater seating and a main stage where the performers (mix gender so there is fun for all) do their thang, and 4 'acts' per hour with breaks in between each for you to chat and get a drink. Each act usually involves a prop of some kind and is usually performed with humor and encouraged audience participation (verbal). These shows are different from their 'live sex show' where a couple has sex in front of the audience and although these are advertised as running regularly, that is not always the case so you may have to wait for one of these shows. If you plan on coming with a group you can make reservations in advance and for larger groups you are sometimes able to get a group discount so it's worth asking.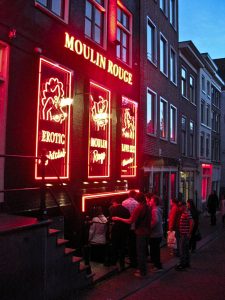 Website: https://www.moulinrougeamsterdam.nl/
Cost: Entrance fee is 30 Euro per person or 40 Euro for entrance and 4 drink tokens (although drink prices are pretty cheap inside so this is only a good deal if you plan on drinking a lot)
Hours: Monday, Tuesday, Wednesday: 8pm – 2am; Thursday, Friday, Saturday, Sunday: 2pm – 2am
Address: Oudezijds Achterburgwal 5-7, 1012 DA   Amsterdam
Banana Bar:
One of the more popular (with straight men) sex clubs in Amsterdam where the waitresses mill around serving drinks but you can pay to have them do "a little extra". Girls can provide lap dances, do sex tricks with bananas, vibrators, and can even 'write you a postcard' in the most creative way you can imagine 😉 Think strip club gone wild with bananas. This club is best for groups (like stag/bachelor parties).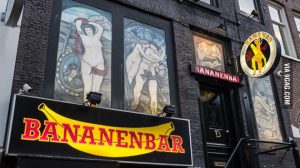 Website: www.bananenbar.nl
Cost: Entrance fee is 60 Euro per person for one hour but you get unlimited drinks during that time. Any 'extras' you ask of the ladies costs extra and can cost as much as the entrance fee so plan accordingly.
Hours: Sunday to Thursday from 8pm till 2am, Friday and Saturday from 8pm till 3am.
Address: Oudezijds Achterburgwal 37, 1012 DA   Amsterdam

Banana Club which is your typical strip club which is better for mixed gender entertainment for only 10 Euro per person.
Summary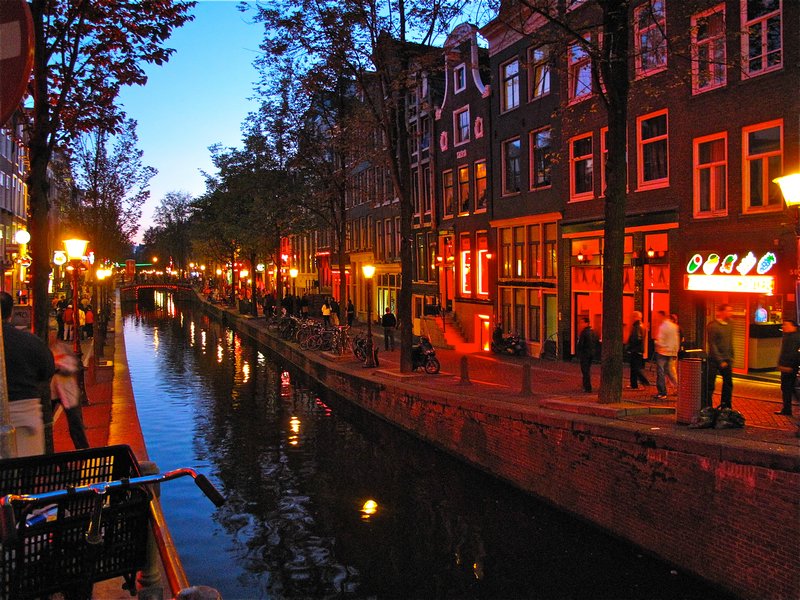 Article Name
The Wild Side | Sex Shows In Amsterdam
Description
So you're going to Amsterdam and interested in a unique experience not found in your vanilla hometown? Read this article to get some ideas on where to go and what to expect!
Author
Publisher Name
Publisher Logo