Berlin Philharmonic Lunch Concert (FREE every Tuesday)
With free concerts every Tuesday of the month from September-June for the first 1,500 people to show up, this is a must stop on any classical music lovers list of things to experience in Berlin. Although you may not always like the music selection for the lunch performance (which happened for us since we are not big fans of more contemporary classical) it is still worth it to experience these talented musicians in this incredible space. The concert itself takes place in the lobby area of the Philharmonic concert hall with a limited amount of actual seats, which are primarily given to the elderly, disabled, or pregnant who would have difficulty sitting on the floor or standing for the hour long performance. It is pretty incredible to see so many people packed into the space all enthralled with the performance. It was one of the most respectful and quiet audiences we have ever encountered in our life considering how many people of various ages there were in such an space and with such acoustics. Add it to your bucket list- you won't regret it (and try to get there early enough to get a bench seat around the perimeter of the room where you can lean on the wall- unless you're okay sitting on the ground for extended periods of time). Concert is FREE, so just plan on arriving at least 30 minutes before the performance as they do fill up quickly. Snacks, baked goods, souvenirs and beverages can be purchased from the cafe inside.
We got a decent seat with a view of the pianist – in this panorama can you see how people were crammed all the way up the staircase and in every nook and cranny?

Address: Potsdamer Strasse 58, 10785 Berlin
Every Tuesday from 1:00pm-1:50ish
Deals! Deals! Deals!
Map
Summary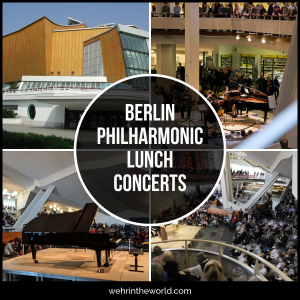 Article Name
Berlin Philharmonic Lunch Concert
Description
Make sure you don't miss the regular FREE sessions in the Philharmonic concert hall! Read about it here.
Author
Publisher Name
Publisher Logo