Trial by fire. I like to throw myself into situations and figure them out. After a lifetime of baking under my belt I figure I can just make things on instinct. This isn't true, however this time I got lucky. My life path of baking has instilled techniques, now second nature, that move me around the kitchen. Some of these are tactile, relying on the olfactory or a calculated procedure.
Every baker knows his kitchen
and I'm talking about tools. The pans, the spoons, the scales, the containers, the chems, the spray bottles – all of it. Well, even in these lovely homes that support wonderful well fed people, these kitchens are more foreign to me than the straße signs.
In my opinion, er I should say – in this baker's inexperienced opinion – I believe that the proper thing to do is to bake like the Germans bake. Don't convert recipes, don't puzzle out fahrenheit oven temps, don't import American supplies – simply conform.
Given our budget, we're eating cheap and we're cooking a LOT. I'm enjoying the cooking challenge so far. It's more satisfying than this dull Duolingo course I'm doing. During the American Biscuits in Deutchland experiment, here's what I've learned so far:
Baking powder is Backpulver – a single acting baking powder. Not like the cool supreme double acting powder that we champion in the US. This means I have to add more to my memorized recipes – which risks altering the flavor.
Cream is hard to come by – there's a ton of grocery markets in every neighborhood of Berlin. Only some of them will carry cow udder cream (Sahne); we found some at Lidl – but I'm sure a larger Rewe or a bio store

An organic expensive specialty grocery store – think Whole Foods

would have some too. Note – in my biscuits, the cream is the fat. No butter – so you gotta grab the pure stuff. No milk blends.
Even flour is packaged and organized different. Weizenmehl 405 is the one I grabbed. It was cheap and everywhere – like 0.35€. I've seen it in our AirBNB cabinets and plenty stocked at the stores. The 405 is basically All Purpose flour. I like the rational way the Germans have organized their flour labeling – read about it here.
Its common sense, but if you're going to wing it and pilfer a few cheap ingredients from your host – make sure they have what you need so you can prep your shopping list. Naturally, yes, of course they must have salt – saltz für alles! Well my current hosts (awesome people) have big chunky kosher style salt. Not the best for biscuits. I don't want to bite into a rock of salt and get a burst of blah flavor. Not this time, Brian.
So anyhow my experimental concoction worked. The risks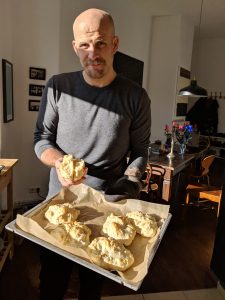 were that we had no measuring devices, blended cream (I know what I said above, uh), and rock salt. I winged it – they had one liquid storage container that had markings on it for increments of millimeters. I used this container to visually measure out what I thought looked like a couple cups – dump it. Empty 3 packets of Backpulver (yup, it comes in packets), ground up the salt between two spoons and mixed it all with a fork. Then I added two containers (think school milk box) of cream. Mixed it. It was garbage.
I expect the feel of the dough to be just like playdoh. I had to keep messing with it until I felt I was risking too much flour (not enough fats) and just dropped them onto a baking sheet. It was wetter than I liked – I couldn't get the right feel, but my instinct told me to stop. I should listen to those more often. 190c in the oven. It worked!
So for baking, I'm dearly missing:
A scale
A mortar and pestle
A thermometer
I say the thermometer because I'm missing it – but I used it primarily for stove top. I got my parent's one, but they didn't seem to take interest in it. I think they're essential to any kitchen. Instant read of any surface, liquid, object, person. Its awesome. I used it most for egg prep and coffee.
Thanks for reading – that's all for now. Now tell me:
What must have kitchen gear could you NOT LIVE WITHOUT?
What German cuisine should we attempt to cook – on video? Keep an eye out for our own Youtube cooking video; themed "Wehr In The Kitchen"!
What kitchen disaster turned out to work out in the end? I'm talking about the tasty brownies that looked like a diarrhea oil spill.
Shopping List
Here's a shopping list of the things I mentioned in this post with both German and American varieties. Enjoy your biscuits!