We spent the last few days in AZ visiting my sister, nephew, dad and step-mom, but mostly my sister, Kristina. While in AZ we decided to apply our traveler indoor adventurer skills to find the best coffee shops, food, culture and live entertainment and it was a success! We found the most awesome place called The Lux which is a coffee shop, restaurant and bar all in one (a one stop shop for everything awesome!). There were cozy places to sit and hang out or work, the food and baked goods were outstanding and the coffee was super good! We went there twice in our short 2.5 days because we liked it so much!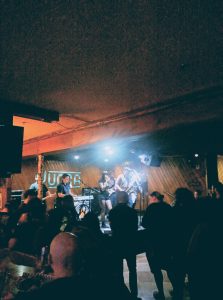 We found some fun live bands playing at a dive bar (which my 20 weeks pregnant sister reluctantly agreed to try out) and enjoyed some interesting music and microphone wrestling- I don't quite know how else to describe what the singer was doing to his mike but it was pretty entertaining- we are pretty sure he was on something because he had more energy than a sugar cracked out seven year old at a birthday party. Our last day in AZ we went to see a movie (), grabbed drinks at a nearby coffee shop (Lolas Coffee) and then made our way to the annual Pie Contest Social where about twelve local professional bakeries and a few local residents (non-professional) squared off offering their best pies. For $15 we got 5 tickets to trade in for a slice of deliciousness. We all ended up loving and voting for the one savory pie option from a shop called Cornish Pasty and it was just yumminess in your mouth! The continual line of at least 20-30 people was a good indicator who won this year's award 🙂
It was a great end to our trip and I am so glad we were able to explore and enjoy some of the cities little jems before we leave the states in a couple of months and even more glad to have been able to share the adventuring with my sister. It was a trip I know we will never forget.
Nick's strategy to find these great events was simple
Use Google Maps to locate the highest rated coffee. Coffee roasters preferred.
Select a shop nearest a university. Go drink coffee.
On the way out, grab the most hipster looking newspaper/magazine thingy. Its the one full of smoke shop ads. In this case it was the Phoenix New Times.
Flip to the events section and open your mind to possibilities – the good ones are advertised here.
This strategy works well in urban areas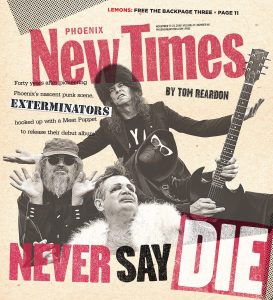 and is usually quicker than hunting the internet because we're already going to get the good coffee. Er, the alleged good coffee 😉